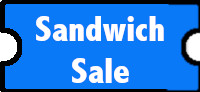 Click to purchase a Kosher Corned Beef Sandwich – You can change the quantity in the shopping cart before you go to PayPal to check out.
Print out your receipt and bring it with you – it is the your proof that you have paid for your ticket(s).
For Commercial Orders = 12+ sandwiches — please put the date/time that  you wish to pickup your order and what type drinks you want (Coke, Diet Coke, Water) and how many of each – under the note section in PayPal. This will help us get your orders ready quicker. Tickets purchased directly are $12.00 each; tickets purchased online are $13.00 each (blame Paypal for that).