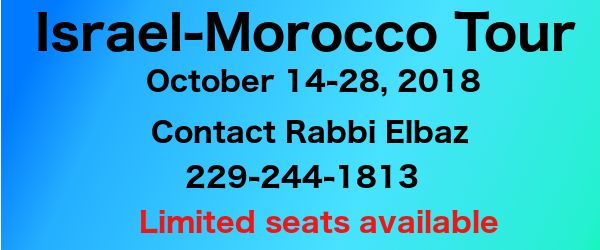 The 20th Kosher Corned Beef Fundraising event was a great success. Penny & I joined members of our family celebrating Jonah Mesa' Bar Mitzvah in Knoxville, TN, and it was a great celebration. While we missed the Friday & Sunday days of the fundraising event, we drove on Sunday, so we both can be at hand helping on Monday, and it was great to see all our members and supporters giving us a helping hand. As your rabbi, I could not be more proud & delighted to experience this event with you. – Penny & I thank you!
Passover is Judaism most celebrated holiday for over 3000 years ago, in observance of the liberation from Egyptian bondage. We celebrate Passover first by cleaning our homes from Chometz that includes foo and drink made of wheat, barley, rye, oats, spelt or their derivatives which is not allowed on Psassover. Cleaning our homes from all Chometz, shopping for Passover  with 'kosher for Passover' or 'P' symbol, sell your Chimetz to the rabbi. Passover is observed for eight-days. Seders are held after sunset on Friday, March 30 and Saturday, March 31. If you are holding a seder in your home and willing to invite members to your seder let rabbi know in the next few days.
Rabbi will lead a tour to Israel & Morocco October 14-28, 2018. We invite you & your friends to join a very exciting experience of two weeks of the ancient and modern Israel and the Jewish roots and heritage in Morocco. Space is limited. For more details contact the rabbi at 229 244-1813
We pray for speedy recovery 're'fua she'lma' to all who require healing in our community. If you wish that a name of a sick person(s) mentioned at services, please send the names to the rabbi.
We would like to encourage every Jewish person in our area to join us as member and join our Temple Israel family in building a Jewish life here in Valdosta. If you know of any Jewish person or family unaffiliated invite them to services.     
Best wishes to those among us who are celebrating a birthday, anniversary or another joyous occasion. Let rabbi know that you are celebrating a happy event and will announce it from the Bimah at services.
Join us for Sabbath evening service, Friday, March 16 at 7:30 p.m. and on Saturday, March 7 at 10:00 a.m. for Current events & Torah study event
Sharon and Sidney Morris will celebrate their 43rd' Wedding Anniversary with us during the Sabbath Evening Service, Friday, March 23 – Mazel Tov!
Sabbath Evening Services – always at 7:30 p.m.
Friday, March 16      Oneg is being sponsored by Susan & Louie Schmier
Saturday, March 17    10:00 a.m. Torah Study Session – Va'Yikra
Friday, March 23        7:30 p.m. Celebrating the 43rd' Wedding Anniversary of Sharon & Sidney Morris.
Friday, March 30        No Service – First Seder of Passover in homes
Saturday, March 31    Second Seder in Homes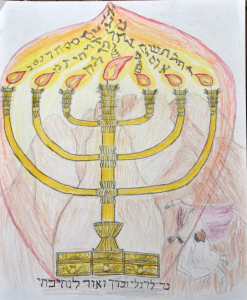 Menorah drawing for our Shabbat Morning class, by Vic Dawdry.
UPCOMING YAHRZEITS – SCHEDULE
MARCH 17-23, 2018                  1-7 NISAN 5778
 Benjamin Jacob Schwartz (3/17)
Paul Landesman (3/17)
Fannie Dashoff (3/21)
Arnold Schneider (3/23)
Isaac Stein (3/23)
Gianna Selcer (3/21)
Sarah I. Goldstein (3/21)
MARCH 24-30, 2018                  8-14 NISAN 5778
George Levy (3/25)
Solomon Feinberg (3/25)
Harold Ember (3/26)
Ida Bierman (3/28)
Sam Rainbow (3/28)
Geoff Josman (3/29)
Judith Lynn Lazarus (3/28)
Frieda S. Spieler (3/30)
Bessie Golivesky (3/31)
Nathan Golivesky (3/31)
MARCH 31-APRIL 6, 2018       15-21 NISAN 5778
Rebecca Taylor (4/2)
Benjamin Druck (4/6)
Mary Hodge Cohen (3/31)
Marion K. Levine (4/1)
Hyman Dunn (4/6)
Bruce Howard Feinberg (4/4)
Lottie Margolis Hartnig (4/1)
APRIL 7-13, 2018             22-28 NISAN 5778
Molly Broomberg (4/7)
Richard Dunbar (4/11)
Daniel Litwak (4/12)
Abraham Pearlman (4/13)
Katie Minson (4/13)
Max Gilmore (4/13)
Betty W. Hall (4/9)
Leon Bonnett (4/9)
APRIL 14-20, 2018           29 NISAN-5 IYAR 5778
Gertrude Polonsky Levy (4/14)
Gery Litwak (4/19)
Lillian Taylor (4/18)
Efraim Elbaz (4/20)
Joe Martinez (4/16)
APRIL 21-27, 2018           6-12 IYAR 5778
Mary Stein (4/24)
Morris Pincus (4/24)
Howard N. Broomberg (4/22)
Jakob Uri (4/26)
A Yahrzeit, a memorial lamp will (if available on the large bronze tablets) be lit in the Synagogue. On the appropriate date and a Mourner's Kaddish may be recited .