WEEKLY SABBATH NOTES FOR TEMPLE ISRAEL
Valdosta, Georgia 21602- 229 244-1813/269-8680 (cell)
Rabbi's new e-mail: mosheelbaz46@gmail.com
קהילת טמפל ישראל
ESTABLISHED 1908
RABBI MOSHE ELBAZ    הרב משה אלבז
DECEMBER 8, 2022/ KISLEV 14, 5783
Zoom link https://us02web.zoom.us/j/8101551107?pwd=Y08ycVZwT05pdG9sUFNUZkkvUjErUT09
TORAH PORTION: SHABBAT VA'YISH'LACH
Color poster and flyers in the lobby announcing the upcoming Chanukah Celebration, December 22 – 6:00 p.m. with Etay Edgar from Israel. Please plan to attend and bring your friends.
We would like to invite all our members and friends to this Shabbat Evening Services: Friday, December 9
At 7:30 p.m.
Sabbath Services schedule: Fridays, December 9, December 16 and December 30-Please note that no services on December 23
The Festival of Chanukah begins, Sunday, December 18th after sunset with the kindling the Menorah with three blessings for the first night: 1. L'hadlik ner shel Chanukah, 2. Sh'assa nissim la'avoteinu, 3. She'he'chya'nu.
This miraculous victory, culminating with the re-dedication of the Sanctuary in Jerusalem and the rekindling of the Menorah which had been desecrated and extinguish by the enemy had been celebrated annually ever since.
The Maccabees had done all that was physically possible, the re-enter the Holy Temple and began to purify it. They found a jar of oil enough to kindle the Menorah for one day. To prepare for more oil would require a process of at least seven days, miraculously, the single jar burned for eight days. Thus Chanukah is more than a holiday; Chanukah is an eight-day spiritual journey. It is a story of a little candle pushing away the monster of frightening darkness, of human sensibility overcoming terror and brutal force, of life and growth overcoming destruction.
If you have knowledge of a member/friends is ill, in the hospital, rabbi would like to know and make it known to our congregation e-mail communications. In addition we'll announce of the sad news of a passing of members/friends in Valdosta and in the neighboring communities.
---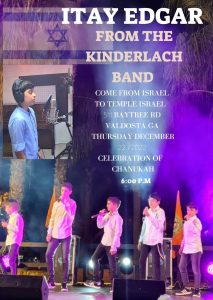 FEATURING
ETAI EDGAR
Member of the Kinderlach Singing Group
Directly from Israel
IN CELEBRATION OF CHANUKAH
THURSDAY, DECEMBER 22
6:00 P.M. – SANCTUARY
RECEPTION WILL FOLLOW
---
UPCOMING YAHRZEITS – SCHEDULE
*All Yahrtzeit weekly announcements will be made twice. On the previous week and on the actual week. To place a Memorial Plaque for a loved one, please contact the rabbi (need name in English & Hebrew, date of death – it takes 3 months for order to be completed-($500.00)
UPCOMING YAHRZEITS
DECEMBER 10-16, 2022          16-22 KISLEV 5783
Alexander Las (12/11)                  Martha S Myers (12/15)
Hyman Taylor (12/16)        Beatrice Pearlman Yarus (12/13)
DECEMBER 17-23, 2022          23-29 KISLEV 5783
Lillian Weinstein (12/18)              Sam Kalin (12/18)
Moshe Meer (12/20)           David Minson (12/21)
Charles Polonsky (12/23)             Harry Karlip (12/19)
Ethel Rebecca Karlip (12/213)     Sanford Rovall (12/21)
David Minson (12/21)                  Richard Small (12/19)
William J Pearlman (12/23)
A Yahrzeit, a memorial lamp will (if available on the large bronze tablets) be lit in the Synagogue. On the appropriate date and a Mourner's Kaddish may be recited