WEEKLY SABBATH NOTES FOR TEMPLE ISRAEL
Valdosta, Georgia 31602 – 229-244-1813/229-269-8680 (cell)
Rabbi's e-mail: mosheelbaz46@gmail.com
קהילת טמפל ישראל
ESTABLISHED 1908
RABBI MOSHE ELBAZ    הרב משה אלבז
Join us this Sabbath evening, 
Nov. 17. Services – 7:30 PM.
Nov. 23. NO SERVICES. Thanksgiving holiday.
Nov 30. Services – 7:30 PM.

Zoom link.   https://zoom.us/j/5438704485?pwd=TXdqMDVsN3FUOVIyMWtEa0FaVEpTQT09
---
Penny's Message
Dear friends,
We hope everyone had a wonderful thanksgiving holiday. Services return to our regular schedule of Fridays 7:30pm
On the eve of Shabbat, we send you our warm wishes and prayers, and extend prayers for the speedy recovery of Sydney Morris, Lamar Golivesky, Hank Rupright, Barry and Haley Hyatt, Donna Delaney, as well as others.
It has been almost two months since war broke out between Israel and Hamas and it has caused great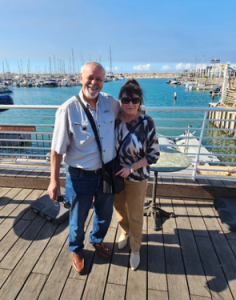 suffering. In the past days exchanges of captured Israelis for release of convicted Hamas militants has been taking place during a pause of the battle hoping that it may lead to all hostages coming home. The government of Israel and the IDF promised to continue fighting till Hamas is removed from governing Gaza.
Next Friday, we'll be celebrating Chanukah. It is this holiday that celebrates the spirit of bringing light to the darkness, and the dedication of unity and renewal. During these past days of despair, the Macabbees of Chanukah and the Israeli soldiers give hope and resolve of Am Israel Chai.
There will be another fun and fabulous "braiding bunch" get together soon. Check with Anita Lovett as to which Sunday.
Penny and I were in Ashkelon between our visit to Sderot and meeting with a unit of soldiers. We took this picture as we were waiting for the order of hamburgers we would be bringing to the soldiers. We wish everyone a peaceful Shabbat.
---
IN MEMORIAM: Bronze Memorial plaque forms available include English & Hebrew names and are available to order locally. Please send a $500.00 donation to be included with the order.
TREE OF LIFE: To honor family/friends with a Tree of Life Leaf that can be engraved locally – Please send your order to Rabbi with a $150.00 donation per leaf. Chanah Wilson is a member of the board and handles the Tree of Life & other dedications.
If you have knowledge of a member/friend who is ill, or in the hospital, the rabbi would like to know and make it known to our congregation for e-mail communications. In addition, we'll announce the sad news of the passing of members/friends in Valdosta and in the neighboring communities.
YAHRZEITS

NOV. 25-DEC. 1, 2023               12-18 KISLEV 5784
Barbara Soshnik (11/26)              Allen Soshnik (11/26)
Joseph Louis Perlman (11/27)  Lizzie Handleman (11/28)
Alexander Las (11/30)        Michael Powell (11/26)
DECEMBER 2-8, 2023              19-25 KISLEV 5784
Martha Myers (12/4)          Hyman Taylor (12/5)
Lillian Weinstein (12/7)                Sam Kalin (12/7)
Beatrice Pearlman Yarus (12/2)  Harry Karlip (12/8)
Richard Small (12/8)          Richard Wilson (12/6)
DECEMBER 9-15, 2023     26 KISLEV-3 TEVET 5784
Moshe Meer (12/9)             David Minson (12/10)
Charles Polonsky (12/12)   Virgina Katz Morris (12/14)
Ethel Rebecca Karlip (12/12)  Sanford Rovall (12/10)
Lillian White (12/9)   William J. Pearlman (12/12)
DECEMBER 16-22, 2023          4-10 TEVET 5784
Ruth Simon Atkinson (12/17)      Jacob Perlman (12/19)
Jeffrey Schneider (12/21)               Harry Grossman (12/22)
Carl Shapiro (12/19)          Adrienne Powell (12/19)
DECEMBER 23-29, 2023          11-17 TEVET 5784
Richard Lazarus (12/24)               Rose Lazarus (12/30)
Sylvia Rostin (12/28)                   Annie F. Levine (12/29)
Ilse Mary Uri (12/27)                   John Vogel (12/24)
Ruth Joy (12/23)
DEC. 30-JAN. 5, 2024                18-24 TEVET 5784
Joseph Aigen (12/30)                   Donald Shaffer (12/30)
Molly Vidro (1/3/24)          Syd Kaiser (1/3/24)
Herman Feldman (1.5)                 Carol Feldman (12.31)
Eleanore Bergman (12/39)  Karen Lynne Root (1/5)
JANUARY 6-12, 2024      25 TEVET-2 SHEVAT 5784
Ruth Landey (1/7)              Leah Dunn Landey (1/7)
Ethel Hopkins (1/10)          Rpse Druck Landey (1/10)
Uri Voldman (1/10)
JANUARY 13-19, 2023              3-9 SHEVAT 5784
David Shapiro (1/16)                   Abe Golivesky (1/17)
Bertha Landesman (1/17)   Joseph Isaac Abrahams (1/18)
Faye Orenstein Rainbow (1/18)
JAQNUARY 20-26, 2024           10-16 SHEVAT 5784
Helen Schultz (1/20)           Tom Winters (1/21)
Leon Levin (1/22)               Rose R. Gilmore (1/22)
Bess Abrahams (1/24)                  Irving Dinnerman (1/24)
Olivia Spense Cook (1/25) Edith Perlman Cohen (1/25)
William Selig Myers (1/25)  Jack Elliot Kessel (1/24)
Sofia Voldman (1/22)                   Rebecca Shuman (1/23)
Sheldon L Broomberg (1/20)   Estelle Broomberg (1/20)
Goldie Ruth Powell (1/25)
JAN. 27-FEB. 2, 2024                 17-23 SHEVAT 5785
Annette Lazarus (1/27)                 Ruby Eichberg (1/27)
Jack L. Erkis (1/28)            Louis Kalin (1/29)
David Hyatt (2/1)               Rubin Schmier (2/2)
FEBRUARY 3-9, 2024               24-30 SHEVAT 5784
Irene B. Myers (2/3)           Evelyn Franklin (2/8)
Naomi Lehman (2/9)
FEBRUARY 10-16, 2024           1-7 ADAR I, 5784
Maxine Lazarus (2/15)                 Bat Sheva Lazarus (2/16)
Nathan Zelkin (2/13)          Chaya Golda Kleinman (2/10)
Hyman Braverman (2/13)            Annette Eisenson (2/16)
Fredrich Joel Loef (2/13)
FEBRUARY 17-23, 2024           8-14 ADAR I, 5784
Anna Bergman (2/22)                   Nyna Grossman (2/22)
Mary Wexler (2/23)            Ben Landey (2/19)
Eli Giges (2/17)                   Ida Lazarus (2/19)
FEB. 24-MARCH 1, 2024          15-21 ADAR I, 5784
Janet Topale (2/26)             Clarence Vidro (2/27)
Harry Schwartz (2/28)                 David Goldhar (2/28)
Tessie Manes Kalin (2/28)
*All Yahrtzeit weekly announcements will be made twice. On the previous week and on the actual week. To place a Memorial Plaque for a loved one, please contact the rabbi (need the name in English & Hebrew, date of death) – it takes 3 months for the order to be completed – ($500.00)
A Yahrzeit, a memorial lamp, will (if available on the large bronze tablets) be lit in the Synagogue. On the appropriate date, a Mourner's Kaddish may be recited.